Harrison School Pre-School Disabilties Program
A full continuum of special education programs are available to students ages three to five years of age who have been evaluated by the child study team and found eligible for special education and related services. An Individualized Educational Plan (IEP) that describes the child's present level of functioning, goals and objectives, and special education program is developed by the IEP team. The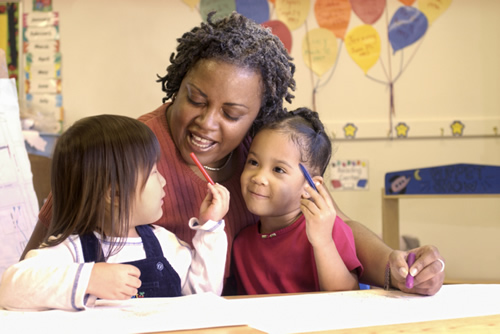 IEP team is comprised of the child's parents, a case manager, general education teacher and special education teacher. The IEP will be implemented after parents have given written consent.
The Caldwell-West Caldwell School District operates preschool classes that are located in the Harrison Elementary School. Self-contained classes are taught by certified special education teachers. Additionally, the Caldwell-West Caldwell School District offers an integrated preschool program. This general education inclusive program provides an early childhood curriculum that promotes positive developmental experiences and independence while encouraging the uniqueness of each child. These programs are designed to meet each preschooler's learning needs in the least restrictive environment District programs meet federal and state mandates for least restrictive environment by offering a full continuum of services.
The Caldwell-West Caldwell Public School Preschool Program has been designed to stimulate a child's intellect and imagination. Our goal is to help children become independent, self-confident, self-directed learners.
"The principal goal of education is to create people who are capable of doing new things, not simply of repeating what other generations have done…people who are creative, inventive, and discoverers. The second goal of education is to form minds which can be critical, can verify and will not accept everything that they are offered. The great danger today is of slogans, collective opinions and ready-made trends of thought. We have to be able to resist individually, to criticize and to distinguish between what is proven and what is not. So we need pupils who are active, who learn early to find out by themselves, partly through their own spontaneous activity and partly through materials we set up for them; who learn early to tell what is verifiable and what is simply the first idea to come to them."
-Jean Piaget, The Construction of Reality in the Child, 1954